Insurance Premium Taxes account for 25% of Wellington's annual operating budget. Please make sure the taxes you pay are being sent to "Wellington" and not to Jefferson County or any other municipality.
Please check your home and auto Policy Declaration page (your most recent bill). You get this even if you pay insurance through escrow. "Wellington" should be listed next to the 5% insurance premium tax. (See below)
 If not, contact your insurance agent today. Download an Insurance Authorization Form that you request your agent to confirm Wellington is receiving this insurance tax.
 Please contact Lois Roby, City Clerk, if you have any questions – (502) 494-9062 (text) or email.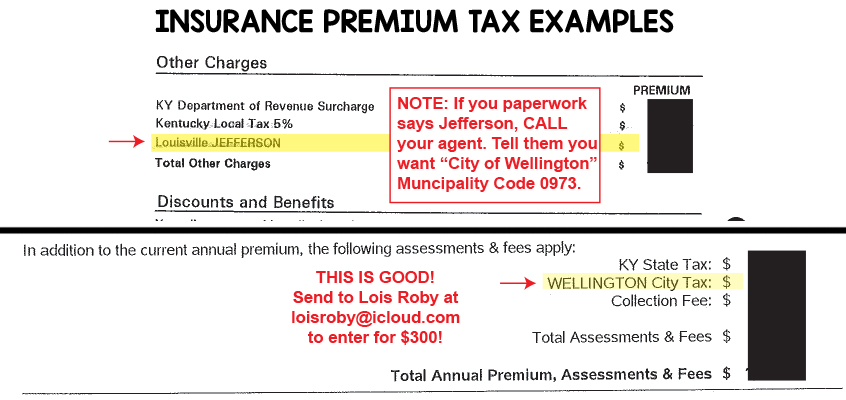 Each of us pays an Insurance Premium Tax when we buy or renew any of these insurances: policies:
Homeowners (property and casualty)
Automobile
Fire and allied perils
Life
Business Insurance
Inland marine
Our insurance companies then send this tax money to the City of Wellington, where it makes up about 25% of our City's operations budget. Unfortunately, this is not a perfect system, and the insurance companies sometimes send the tax dollars to the wrong municipality. This is why we need your help.
Please check the first two pages of your annual Insurance Policy Declaration Pages and look for the 5% Insurance Tax Premium – aka Kentucky local tax, License Fee or possibly another name. Next to it, is the name of the municipality currently receiving the tax. If it does not indicate "City of Wellington" or "Wellington," please call or mail the attached form to your insurance companies as soon as possible and ask them to correct the error and send you verification.
Show us that Wellington is designated as the recipient of your taxes, and we will enter your name in the drawing one time for each policy you present. All information is confidential and you may redact your any info that does not apply.
Keep your taxes in Wellington. Send verification to Lois Roby, City Clerk, at [email protected], text (502) 494-9062 or mail to 2310 Manchester Rd.
So it takes an affirmative action on your part to redirect these funds to our City. With this in mind, please notify your insurance agent. He/she will know what you are talking about. Or better yet download a Insurance Authorization Form that you can enclose in your next payment – and please make sure to request an acknowledgement to confirm Wellington is receiving this insurance tax.